Showcase promotes a wide variety of music covering a broad range of music styles and ensembles in a relaxed and informal setting. The concerts feature outstanding young musicians from the Chester area as well as more established local artists.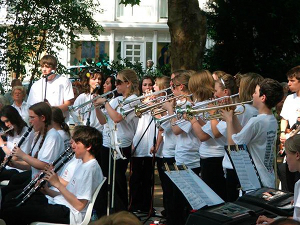 Showcase aims to encourage young musicians and in many cases offers them the first opportunity to perform in public. Local amateur groups and soloists are also featured together with young students from the Royal Northern College of Music (RNCM) and Chethams School.
Performances are at St Mary's Creative Space, Chester, usually six to nine times a year, from October to March.
All concerts are on Wednesdays and commence at 7.30pm. Admission is free for Showcase Members, otherwise £5.00, with concessions for students and children, payable at the door.
The atmosphere is informal and new members are always welcome.
Please refer to the Showcase Concerts Season page for details of the individual Concerts.
Showcase membership enquiries should be addressed to 01928 787496 or This email address is being protected from spambots. You need JavaScript enabled to view it.

click here