Welcome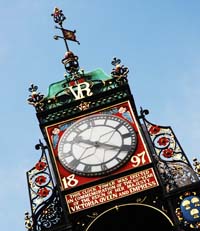 Welcome to the Chester Music Society website. We have  been engaged in the promotion and performance of classical music in the City of Chester since 1946 and are committed to providing direct musical involvement and enjoyment for many, particularly by bringing increased musical experience to the rising generation. As a Charity our objectives are to provide, maintain, improve and advance education in the widest sense of the word by furthering public appreciation of music. We present more than 20 concerts and musical events in Chester each year; our concert season begins in October and continues through May.
Planning for our new 2023-24 season is now complete  and details are now availble on this website. Why not search these pages; you will be pleasantly surprised with what you find.

Our regular season of six Celebrity concerts will begin in October and continue into March 2024.

Showcase concerts are resuming as well including, this season, a special Sunday afternoon of fun and  live music for all the family

The Choir performances will begin with a stupendous performace of the Verdi Requiem on 25 November. We welcome all competent singers to join us with our full professonal orchestra and professional solists.
Our annual Chester Young Musicians Competition will be held at Abbey Gate College on Sunday 19 November.

Rejoining Society members, of both the Choir and Concert sections, can download a Membership renewal form HERE.

 
KEEPING YOU INFORMED
During this period of uncertainty we will make every effort to keep our regular supporters informed by email (sent via Mailchimp). If you would like to be added to our confidential mailing lists please email us at This email address is being protected from spambots. You need JavaScript enabled to view it..

Follow the Choir on Facebook Here
Follow the Celebrity Section on Facebook Here