Welcome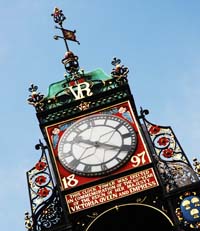 Welcome to the Chester Music Society website. We have  been engaged in the promotion and performance of classical music in the City of Chester since 1946 and are committed to providing direct musical involvement and enjoyment for many, particularly by bringing increased musical experience to the rising generation. As a Charity our objectives are to provide, maintain, improve and advance education in the widest sense of the word by furthering public appreciation of music. We present more than 20 concerts and musical events in Chester each year; our concert season begins in October and continues through May.
WE ARE BACK
After the long hiatus caused by the Covid pandemic we are delighted to be able to announce that our new season for 2021-22 will be starting in the Autumn. And not only that, but we are also celebrating our 75th birthday. Chester Music Society was founded in 1946, so 2021 represents a special Anniversary, which we had hoped to begin celebrating in January. Unfortunately events conspired against us, but now - better late than never - we can bring you some outstanding music events.
We are pleased to be able to announce that our regular season of six Celebrity concerts will be promoted this year as usual, but beginning – later than usual - in December and continuing into May 2022.  Follow this LINK to see the full prospectus. STOP PRESS: More tickets for the last two concerts of the current season have now been released, Click HERE to book.
Our Choir is continuing the new season with an exciting performance of Handel's Messiah on Saturday 14 May. Read more here. To go direct to the ticket booking page Click Here.
Showcase concerts are resuming as well, but without season tickets while Covid restrictions continue to apply. For the time being admission will be by payment at the door only: £5 (Students (£1). Click here to see the full prospectus.
KEEPING YOU INFORMED
During this period of uncertainty will be doing our best to keep you informed by email (sent via Mailchimp). If you would like to be added to our confidential mailing lists please email us at This email address is being protected from spambots. You need JavaScript enabled to view it..

Follow the Choir on Facebook Here
Follow the Celebrity Section on Facebook Here