The Celebrity Concerts section promotes six concerts each year. The concerts are mainly, but not always, of chamber music and during each season a variety of instrumental and voice groupings are offered, by both established and rising professional musicians. An opportunity to hear current and future stars.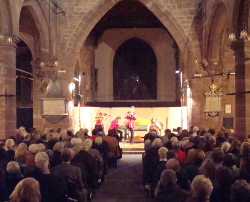 The concerts are held on the second Wednesday of the month at 7:30pm in St Mary's Centre, Chester. There is ample free parking on Castle Square.
Unfortunately, while Covid restrictions persist, the seating capacity at St Mary's Creative Space will be limited. As a result we will be giving priority to subscribers to Celebrity Concert season ticket holders and not releasing individual concert tickets just yet. All seats will be unreserved to reduce unnecessary contact with other audience members.
CLICK HERE for details of concerts. Please refer to the Tickets page for tickets.

click here