Join the Choir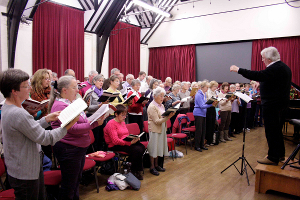 Are you interested in joining the Choir?
Unfortunately while 'lockdown' continues we are unable to accept new members, but if you wish to send us your email address at This email address is being protected from spambots. You need JavaScript enabled to view it. we will ensure that you are put on our mailing list and kept informed of our activities.
We recruit new members at the beginning of the season in September and at the start of the second half of the season in January. Recent performances have included J S Bach St John Passion in March 2019 and Haydn The Creation in May. You can find both our past performances and our forward programme in this website
We will have vacancies for all vocal parts from January 2020 and you will be very welcome to join an Open Session at our rehearsal on 9 January at Wesley Church Centre, St John Street, Chester.
We also offer students a reduced membership fee. Click here for more information about the audition. Rehearsals are held in Chester at Queens School, City Walls Road, Chester CH1 2NN on a Thursday evening at 19.30 until 21:30 (with the exception of 9 and 16 January 2020).
This is an opportunity to join an active, friendly choir in the heart of Chester and a chance to sing major choral works with a professional orchestra and soloists in the historic setting of Chester Cathedral. Please contact This email address is being protected from spambots. You need JavaScript enabled to view it. if you are interested.
Come along and try it.