Abbey Gate College Choir and Musicians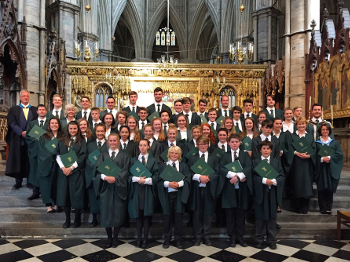 Wed. 1st March 2017
Returning to the Music Society Club by popular demand the Abbey Gate College Choir and Musicians promise an exciting evening of music.
The Chester Music Society Club is pleased to welcome the return of the Abbey Gate College Choir and Musicians.
Stuart Smith - conductor
Abbey Gate College Chapel Choir was formed in 1983 and since then, under the guidance of current Director of Music, Stewart Smith, has continued to grow and is today one of the school's biggest assets.
It began as a Chamber Choir of just 15 members but today has over 70 (which includes current and ex Cathedral Choristers), taking part in choral performances, concerts and services locally, nationally and even abroad. Abbey Gate College Chapel Choir appears regularly at the prestigious Chester Cathedral throughout the year, including at Christmas and Passiontide.
Each summer the choir has a tour either abroad or to an English Cathedral. These tours have included Holland, Germany, Poland, Czech Republic, Italy, Belgium, Poland and the USA. The choir performs Evensong at St Paul's Cathedral in London every year and has sung in most major English Cathedrals over the past 26 years.
Venue: St Mary's Creative Space, 19:30, Wednesday 1st March 2017.
Tickets: £5 payable at the door. (Club Season ticket holders Free).
Chester Music Society reserves the right to alter or cancel programmes without notice.