City of Chester Brass Band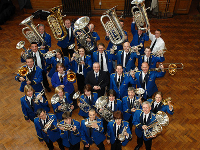 Wed. 30th November 2016
Club Concerts gives a welcome to the City of Chester Brass Band and its Training Band. They will perform a selection of pieces from their extensive repertoire including some seasonal "lollipops".
Originating in the early 1850's the band was formed from money left over from a fund established by the 'Ladies of Chester', to buy a present for Queen Victoria. The money was donated to the Blue Coat School Foundation, and so the Blue Coat Band came about. With a likely formation date of 1853, the band celebrated its 150th Birthday in 2003.
Today the band proudly carries the City name and is totally self-supporting as a registered charity, with its own band room in Bedward Row. In 1997, the band was successful in obtaining a Lottery Grant that enabled the purchase of new instruments and the widening of public access to the band, brass band music and the formation of a thriving Training Band.
Both bands will perform at this concert which will be a mixture of music from the bands' repertoires with some seasonal "lollipops".
City of Chester Brass Band
Ewan Easton - Musical Director
and Training Band
Chris Hardy - conductor
Venue: St Mary's Creative Space, 19:30, Wednesday 30th November 2016.
Tickets: £5 payable at the door. (Club Season ticket holders Free).
Chester Music Society reserves the right to alter or cancel programmes without notice.