Our Logo
The Chester Music Society has a unique design which incorporates aspects of the Society's location in the north west of England.
Logo Clef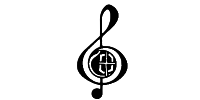 The symbol was designed by Tony Kemp and is based on the sign of the treble clef, used in writing music. In the centre is a stylised map of Chester represented by the river Dee, the Chester City Walls and the streets of the Roman and medieval city.
Chester Music Society Logo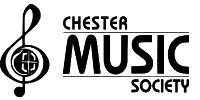 The symbol was combined with the off-set "Chester Music Society" text as the result of a design competition to produce the current distinctive logo.