Choir at Storyhouse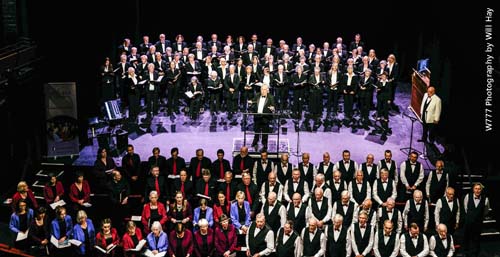 Sunday 15 April was a 'first' for the CMS Choir when they appeared on the main theatre stage at Storyhouse in Chester. Ever since Chester's new theatre was opened in May last year we looked on enviously and wondered whether it would be possible to perform in this exciting new space.
After many weeks of discussion we finally joined forces with Chester Bach Singers and the City of Chester Male Voice Choir for a joint performance under the umbrella title of 'Chester Sings'. As a technical learning process it proved an interesting and valuable experience. Getting to grips with a large professional theatre presented the participants with a challenge which all met with flying colours.
In the presence of a her Grace the Duchess of Westminster a highly supportive audience was entertained by each choir's individual musical style, beginning with the Bach Singers who performed works by Rachmaninov Elgar and Finzi and then let their collective hair down with a lighter mood, including Blue Moon, I Got Rhythm and Somewhere Over the Rainbow.
The Male Voice Choir were in fine fettle and showed their talents in medleys of American songs from the First World War, and exciting harmonies from South Africa, in which their music director Rodney Jones featured as a soloist.
In keeping with their normal performance space of Chester cathedral the Music society choir has a bias towards the spiritual, and on this occasion followed their instincts by performing Parry's Blest Pair of Sirens and a Te Deum for the Empress Marie Therese written by Joseph Haydn.
To round off the evening, and with the house lights up so that at last the performers could see their audience, Graham Jordan Ellis led all three choirs and the audience in a rousing performance of William Blake's Jerusalem to conclude a fascinating experience for all concerned.