Our Concerts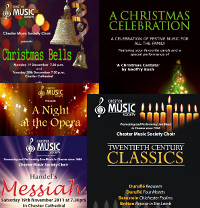 Chester Music Society organises and promotes around twenty concerts per year in and around Chester. Each section of the Society promotes a season of concerts and in addition, the Society organises a Chamber Music Workshop each year for aspiring local musicians and a Choral Workshop for singers. The Society also organises an annual competition for Chester Young Musicians.
Celebrity Concerts comprise a series of six high quality recitals with music predominately from the Classical Chamber repertoire performed by national and international chamber musicians.
Showcase concerts are given by amateur groups and soloists from the local area and also regional specialist schools and music colleges. In many cases these are the first opportunity to perform in public.
Choir concerts are performed by Society members who are members of the Choir section together with professional soloists and instrumental players.
The Choir also perform concerts abroad during its bi-annual concert tour.
Check out each section's concert season by visiting their concert season page.