Choir AGM 2016- Director of Music's Report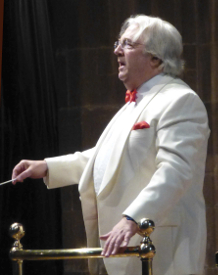 Director of Music's Report : 17 May 2016
I think it would be fair to say that this last season has been one of our most varied and exciting in recent memory, including music from the 17th through to the 21st century in Philip Cooke's Noah's Fire, specially commissioned to celebrate the Society's 70th Anniversary.
It was with this work that we began our rehearsals in September and it was immediately apparent that here we had an approachable and singable composition, with catchy melodies, rhythms and straightforward harmonies. This was no doubt a relief to many, as not all contemporary composers write music for human beings to perform. There were no pieces of graph paper, stop-watch timings, ludicrous time signatures or strange and unexplained symbols with which to contend. Nor were we expected to make peculiar mouth noises, although there were a couple of "Oo"s and "Ah"s and the chorus was expected to chatter and gossip at various stages, this requiring no rehearsal whatsoever. The piece also required a soprano and alto semichorus of harlots, and there seemed to be no shortage of volunteers for this.
We were joined by the Chester Music Society Youth choir and baritone Robert Rice, all accompanied by Liverpool Sinfonia. The afternoon rehearsal threw up a few unexpected problems and the odd error in the orchestral parts, but the evening premiere was remarkable in its confidence, enthusiasm and polish. All who took part enjoyed the experience, as did the audience who were initially bemused by the whole thing, it being far removed from our usual fare, but who quickly came on board and showed their appreciation. Philip Cooke, the composer, was duly invited to the platform rightly to take his applause and all our thanks for his original and satisfying work. He seemed both relieved and pleased with the outcome.
The first half of this concert saw a performance of the evergreen St Nicolas of Benjamin Britten. A wonderful and entertaining piece, originally written for the centenary celebrations of Lancing College, it was a perfect foil to Noah's Fire and not dissimilar in its inspiration and construction. Philip Sheffield was the eponymous tenor and we were joined by the Girl Choristers of Chester Cathedral as the Gallery Choir, and four of the Cathedral boys, three Pickled and one fresh, as Boy Nicolas. As always, we value and are grateful for the support of the Cathedral Music Department, inspirationally led by Philip Rushforth. The whole evening was a great success, and a perfect start to the Society's 70th year bringing choral music to the people of Chester and beyond.
As soon as the dust had settled on our November concert, we were straight back into rehearsals for "Aspects of Christmas" – our December Carol Concerts. This year we were delighted to have with us again, internationally renowned actress Patricia Routledge as our guest reader and the Chester Philharmonic Orchestra. Patricia loves coming to Chester Cathedral where her late brother Graham was ordained, later to become Vice-Dean of St Paul's Cathedral. As always, her readings were carefully and thoughtfully chosen, a mix of the traditional, the amusing and the thought-provoking, all consummately delivered to a full cathedral in which you could have heard a pin drop. The chorus sang with commitment and obvious enjoyment and it is a great satisfaction to me that, in recent years, we have had the majority of the choir perform on both nights, rather than the old and unsatisfactory "shift" system which once was the case. The use of an orchestra at these concerts, and the more "commercial" nature of the programming has undoubtedly gone down very well with our audiences and we no longer suffer from the first night being a sort of "dress rehearsal" for the second. The proliferation of other more formally sacred carol concerts and services in the Cathedral means that our approach is unique and, whether we like the style or not, this audience draw provides us with the wherewithal to stage our other, perhaps less popular, concerts which may not otherwise be possible. Next Christmas sees the return of Ian McMillan, the self-appointed "Bard of Barnsley" who had everyone rolling in the aisles last time he came. Even some of his more risqué comments had the Bishop smiling winsomely.
The gloomy Ides of February is when we usually hold our annual Choir Day. Last year we had a preview of Noah's Fire, led by its composer. This year we returned to King's School and the day was based on Carl Orff's Carmina Burana, a work we have (previously) been forbidden from performing in the Cathedral in view of its questionable portrayal of debauched monks and the like. I gave a short talk about Carl Orff, his work and the piece in general before we set about singing it. To break up the day and to assist with the sectional rehearsals, we were delighted to have Janet Shell and Christopher Goldsack with us, both professional singing tutors and known for their choral workshops. They gave us much good advice on how to care for and develop our voices, delivered with humour and enthusiasm. Our full sing-through after tea rounded off the day and Janet sang the beautiful In Trutina solo for us. The event was largely master-minded as ever by Becky Ford who works tirelessly on behalf of the choir and to whom grateful thanks is due.
We had a relatively short rehearsal period before our March concert and the chorus rose to the challenge magnificently. True, we had spent a Choir day in 2014 on Elgar's The Music Makers and many had sung Walton's Belshazzar's Feast before, either with CMS or more recently the Festival Chorus. Nevertheless, there was much detailed work to be done and rehearsals were focussed and demanding. The two works together do not constitute a long concert, but certainly one of intensive labour. As a contrast, and to give the chorus recovery time, I programmed George Butterworth's Rhapsody: A Shropshire Lad and thought it would be a good idea to precede this with his song Loveliest of Trees, upon which the Rhapsody is based. This was beautifully sung by baritone Quentin Hayes, whose dramatic contribution in Belshazzar's Feast was also rather brief. For the Elgar, it was good to have Margaret McDonald back with us as our soloist, having previously led part of the Choir Day on the same piece. The Music Makers is one of Elgar's finest works, in which he quotes his other compositions, including the poignant reference to Gerontius – "the singer who sings no more". It seemed to me the ideal choice of piece for the anniversary of this Choir, starting as it does with those immortal words : "We are the Music Makers, and we are the Dreamers of Dreams".
Saturday's concert "Chorales for Spring" was a departure from our usual "non-orchestral" concert in that I thought it would be a good idea to invite a Guest recitalist along, instead of the usual vocal soloists. Harpist Morwen Blythin delighted and soothed us with some remarkable playing and an interesting and varied programme. The Cathedral acoustic takes the sound of the harp really well, and it provided an excellent contrast to the choral music and a rest between pieces for the choir. For the choir, I chose music I considered to be relatively straightforward, not requiring soloists, and enjoyable to sing, these being by Mozart, Pergolesi and Haydn. To provide something new and more challenging, I included Lux Aeterna by Morten Lauridsen, an American composer whose popularity over here is fairly recent, and the result of his carol O magnum mysterium, brought to public attention in the King's College Nine Lessons and Carols service a few years back. His style is unmistakeable and uses various recurring melodic cells and pandiatonicism which gives the whole piece unity and a sense of repose. I was taken aback, and pleased, that the choir seemed to take to this music immediately and obviously enjoyed it. In the concert, it was sung with extreme sensitivity, tidiness and attention to detail. One of the features of this successful concert was the skilful and impressive playing of Graham Eccles, particularly in the Lauridsen in which the various colours of the Cathedral organ had been carefully considered and used to great effect. We are very fortunate indeed to have Graham both as our regular rehearsal accompanist and to play the organ for our concerts.
A group of us is shortly to take our May programme to Croatia, but without a harpist! I am sure all those going are looking forward to it, as am I, as these concert tours are such good fun and satisfying "working" holidays. Sue Eales and her team have, once again, arranged a most attractive itinerary and for those of you who have never been on one of these tours, do consider it for 2018 – although I've no idea yet as to where!
Looking back then over this season, and, indeed, the previous few seasons, there is no doubt in my mind that the Choir continues to grow from strength to strength, not only in its technical abilities, but in its attitude to the diverse and challenging styles that have been demanded. This willingness to tackle anything thrown at it in a positive and enthusiastic way, not to pre-judge contemporary music nor dismiss the more populist end of the spectrum, is extremely healthy. What we must now address to secure the future, is the decreasing attendance at our concerts and the recent fall in our membership. We must all do our best to encourage "young blood" into the Choir and into the audience.
I'm very conscious of the fact that this is the meeting at which Denise Parkin steps down as Chairman. Over the years I have known her in her "official" capacities, first as Librarian and latterly as Chairman, she has worked incredibly hard – I suspect the general membership are not aware exactly how hard. Denise has an eye for detail, has always been anxious to get things right, and in her dealings with people, not least the sometimes difficult relationships with the ever-shifting Cathedral administrative department, has always been courteous and considerate. Supported whole-heartedly by the industrious Committee, she will be a very hard act to follow, and I offer my personal thanks to her for her support and friendship.
Graham Jordan Ellis
17 May 2016