Choir AGM 2017- Director of Music's Report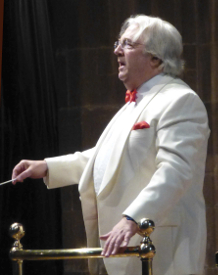 It is extremely gratifying to be able to report on another successful season.
Handel's Messiah is, without doubt, the most popular choral work ever written. For this reason, it receives hundreds of performances each year with differing forces and approaches. There is the "skinny" Messiah with a handful of singers and a small band of Baroque instruments, as Handel had originally intended. There is the "tubby" Messiah with huge choirs and orchestras to match, often using the arrangement by Mozart, or by many others including Ebenezer Prout who rescored the work for full symphony orchestra with assorted percussion, such as cymbals in the "Hallelujah" chorus! In preparing our performance for the November concert the imperative was, therefore, to achieve the transparency and buoyancy of the Baroque style but with a large body of singers. It is a work that many singers claim to know and we last performed it five years ago. Notwithstanding, I was prepared, when we began rehearsals in September, to hear wrong notes, sung out of habit for years, vagueness's in semiquaver passages, and all manner of musical solecisms that can creep into familiar works without us noticing. Not so! I was delighted to hear so many details that I put in at our last performance had survived in people's minds and copies; in the ten rehearsals we had at our disposal, we were able to produce a polished and stylish reading of which I was very pleased. We were joined by an excellent set of soloists, not least countertenor William Towers who came at short notice. A large and enthusiastic audience supported us and, by all accounts, it was a concert that set the tone for the whole season.
The comparatively early concert date gave us a more time to rehearse for our Christmas concerts and we were joined once again by the inimitable Bard of Barnsley, Ian MacMillan, this time complete with his side-kick Luke Carver Goss who played his accordion for us (well on the first night anyway). Between them they had produced a carol on commission "A Single Snowflake Falls" which was well received by all and accompanied on the piano by our own David Taylor. We enjoyed the collaboration with the Chester Philharmonic Orchestra once again, and the choir sang extremely well on both evenings. It's very pleasing that so many sing, and on both nights, rather than the disappointing "shift" system that was once the expectation. It's also pleasing that so many, who perhaps would rather not be singing material from the "commercial" end of the market, are prepared to put their tastes on hold to support these popular concerts which provide the wherewithal for our other, less popular, programmes.
In February we held our customary "Choir Day" at King's School and, this year, we focussed on the Verdi Requiem. Graham Eccles provided excellent support and we welcomed Margaret Macdonald, returning by popular demand, to provide observations and tips on choral production and vocal technique, both very important for all works but especially in something as demanding as the Verdi. These occasions grow in popularity and, unfortunately, we had to turn away several people (including some of our own) because we had reached the maximum number of participants. It's very encouraging that about half of those present came from other choirs, some far distant. We're not out to poach, just to spread the word! Next season's Choir Day is likely to be a Choral Workshop on Mendelssohn's Elijah so make sure you book in plenty of time if you were disappointed this year!
Our March concert was in tribute to Ralph Vaughan Williams, an often misunderstood and underrated composer. Arguably the first truly British composer since Henry Purcell, his music is inspired by the great Tudor age of English music, and in the wonderful modal melodies of folk song. Dona nobis pacem is a deeply moving and unequivocal piece and the choir and orchestra seemed to relish the contrasts it offers. "Beat! Beat! Drums" was particularly spine-chilling with its howls of battle, set against the soothingly exquisite "Word over all, beautiful as the sky" which caused us untold difficulties in balance and intonation in rehearsal. In performance, we might have dropped a smidgeon but the sensitivity was there. Alison Pearce was our soprano and sang with great dignity and presence. The young baritone Peter Edge sang with an understanding that belied his years and the (unintentional) age contrast between the two also added another dimension to the drama of one of his best, but rarely performed, choral works. Liverpool Sinfonia provided a symphonic picture of the vast expanses of the Fen Country with some very sensitive playing, particularly the woodwinds. We began, however, with The Garden of Proserpine, only published and performed for the first time in 2011. The more we worked with this piece the more we became convinced of its worth; why Vaughan Williams discarded it we shall never know but it is good that we, along with a few other performances around the country, have brought it to the public's attention.
Our "organ only" concerts are never as popular as those with orchestra, so I was pleased that we had a respectable turn-out for our The French Connection concert last Saturday. This is an occasion when we can invite young student singers to join us, as they prepare for the beginning of their career. Because the Gounod St Cecilia Mass is slight in terms of solo work, I invited them to contribute some French songs to interweave with some shorter and popular choral pieces. This worked very well indeed and they were accompanied expertly by Andrew Wyatt, Assistant Director of Music at Chester Cathedral. The "old favourites" which the choir sang in the first part of the concert were sensitively handled but, after the interval, you really let rip in the Gounod, spurred on by the exciting accompaniment of Graham Eccles on the Cathedral organ. Some very pleasing comments have been made by the audience whose applause was fulsome, and I think it was one of the best "organ only" concerts we have done in recent years.
One of the features of this season has been the consistently high standard of our concerts and the choir is to be commended on its attendance record, its enthusiasm and positivity. We seemed to have reversed the trend in shrinking audience attendances (at least that's my perception) which is essential in the ever-increasing financial pressures of mounting a concert season of professional quality. Let us hope that we can build on this during our next season and on into the future.
I have been so lucky again to be supported by Graham Eccles, a consummate musician and colleague, and also by David Taylor, our Associate Accompanist, who is always ready to help in accompanying rehearsals or even playing the harp!
Clive Cooper had hardly been in the Choir five minutes before he found himself Chairman. A Baptism of Fire, particularly following on from Denise, whose attention to fine detail was legendary. He has acquitted himself splendidly, as only a Teacher could, and I have greatly appreciated his support during the year, as, indeed I have of the Committee generally, all of whom are movers and shakers of the first order.
Let us sally forth into the next season rejuvenated and committed to building upon what has been achieved in this season and before.
Graham Jordan Ellis
23 May 2017