Young Musicians of the Year Competition 2016 - Results
YOUNG MUSIC TALENT ON SHOW
Sunday 13th November at The King's School saw another array of young talent at the annual Chester Young Musician competition organised by Chester Music Society. Local musician and orchestra conductor Richard Howarth had a difficult task in adjudicating twenty one outstanding youngsters performing on a wide range of instruments.
In the class up to age 12 the eventual winner was 10 year-old flute player Jeremy Bailey with runner-up Ella Scott from Upton High School, Chester, who also played the flute.
In the 13 to 15 age group 15 year-old Holly Clark from Bolton gave a polished performance of Tango by Carlos Gardel and Zwietes Konzertstuck by Willy Brandt, just beating 13 year old Jessica Ellis from Pendlebury, oboe, into second spot.
In the senior group 18 year-old Maria McNamee from Chethams School showed great virtuosity on the harp, with performances of Absidioles by Bernard Andres and Féerie by Marcel Tournier, but eventually after a very close contest the eventual winner of the class, and overall Chester Young Musician, was 17 year-old William Bracken from Bebington, with performances of Bach, Haydn and Prokofiev.
All six winners and runners-up have been invited to give a joint public performance at Chester St Mary's Creative Space on Wednesday 18 January next year, when they will also receive their awards from Society Chairman David Woods.

Class One (up to age 12)
Winner: Jeremy Bailey, Flute
Runner up: Ella Scott, Flute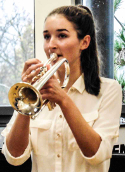 Class Two (13 to 15)
Winner: Holly Clark, Trumpet
Runner up: Jessica Ellis, Oboe

Class Three (16 to 18)
Winner: William Bracken, Piano
Runner up: Maria McNamee, Harp
Young Musician of the year 2015
William Bracken