Young Musicians Perform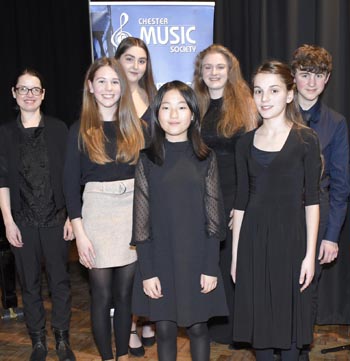 In November 2019 the Society organised its annual Young Musician of the Year Competition. On 15 January 2020 the six winners and runners-up in the three classes came together at St Mary's Creative Space to perform again to an enthusiastic audience and receive their awards from  Society chairman David Woods.
Soprano Emily Stewart, Winner of the 16-18 age class, was declared Young Musician of the Year.
Emily is seventeen years old and from Altrincham. She has been singing since primary school, but began classical training at the age of 13 and is currently studying Music, Drama and English Literature A-Level at Sale Grammar School and is also attending the Junior Royal Northern College of Music, where she studies voice and piano. Emily has also been a member of the Halle Youth Ensembles since 2013, and has sung at prestigious concert venues, alongside the Halle Orchestra, conducted by Sir Mark Elder.  Emily has also participated in music tours, most recently to Barcelona,  Emily hopes to continue her studies at conservatoire, studying to gain her BMus, and pursue a career as an opera and recital singer.
In recognition of her outstanding prospects, and to support her further education, in addition to her award as overall winner of the Competiton she was also presented with a bursary of £500.
Runner up in the 16-18 class was soprano Sophie Akka.
M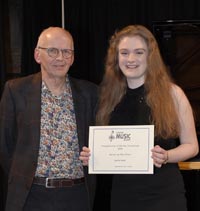 usic has always been a very important part of Sophie's life. She has been a member of the National Children's Orchestra, Hallé Youth Choir, Hallé Youth Orchestra, the Eton/Rodolfus Choral Course, and previously spent 2 years at the JRNCM with voice as her principle study, whilst at the same time obtaining her DipABRSM on the violin in 2017. In order to fully immerse herself in musical life during Sixth Form, she has moved to Chetham's School of Music, continuing with voice as her principle study, in order to help her achieve her long-term dream of becoming an opera singer.
Sophie was also awarded a bursary of £500 towards her further musical education.
Also taking part in the evening's celebrations were (above, l to r) Lauren Turner (accompanist); Cate Nash (piano); Emily Stewart; Mia Hirakawa (cello); Sophi Akka; Hannah Addiscott (flute); and Rufus Edwards (piano).