Chester Young Musician Competition - Results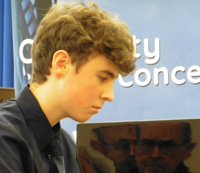 A highly successful competition was held on 24 November at The King's School with entrants of all ages – from 11 to 18 – presenting  instrumental and vocal performances.
 Adjudicator Simon Mercer had a difficult task in identifying the winners, but eventually a decision was made.
In Class 1 (Age 12) the winner was Hannah Addiscott (flute) playing John Rutter and André Caplet: "A challenging programme demonstrating growing technical and musical control".
The Class 2 (Age 13 to 15) winner was pianist Rufus Edwards playing Bach: "Inspirational playing of immense character...with huge musical presence", and Chopin "played with great maturity".
Senior Class 3 (16 to 18) winner and overall Young Musician of the Year was 17 year-old soprano Emily Stewart from Altrincham who performed a recital which included Mozart, Gershwin and Elgar: "She was stylish and engaging. This recital showed great variety in repertoire … well paced and engaging singing". She was particularly complimented on her "professional poise and engagement with the audience".
The runners up in the three classes were Mia Hirakawa cello, Cate Nash piano and Sophie Akka soprano.
Society Chairman David Woods thanked all the other contestants for taking part in the competiton and, while not being successful on this occasion, wished them all every success in their future musical careers.
All six young performers can be heard again on 15 January 2020 when they will appear in the Showcase series at St Mary's Creative Space (Tickets £5 at the door).