Chamber Music Workshop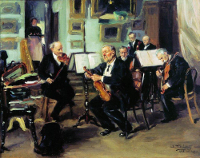 Sat. 8th April 2017
Chester Music Society is once again putting on its increasingly popular Chamber Music Workshop for string based ensembles at Abbey Gate College, Saighton, Chester on Saturday 8th April 2017.
Aspiring amateur string players are invited to participate in a training day, performing in quartets and other ensembles with professional tuition.
Musical Evening 1906 - Vladimir Makovsky
Following what has become an annual event, here is another opportunity in Chester for interested string players to make up groups, typically trios, quartets, or quintets. possibly with one extra instrument e.g. piano, or woodwind, and enjoy learning chamber music for a day, with tuition from experienced players, in an informal atmosphere.
Experienced tutors will be present to help players at novice or advanced level explore a range of appropriate pieces. You can apply as a quartet, or as an individual to make up suitably matched groups on the day. We hope players will come for the full day, but it should be possible to come for either the morning or afternoon sessions, subject to balance of numbers.
An Application form is available here...
If interested or for more information, please contact David Parks-Smith on 01606 882007 or via e-mail if you prefer at This email address is being protected from spambots. You need JavaScript enabled to view it.
This will be an opportunity to enjoy playing music in a different yet friendly situation.
We encourage applications from younger or less experienced string players to introduce them to the wonderful chamber music repertoire, and in some cases parts may be doubled up for mutual support.
The tutors will be eager to help groups to play with more confidence, whatever their experience.
We hope everyone will feel they have learned something by the end of the day.
The workshop will be held at Abbey Gate College, Saighton Grange, Chester CH3 6EN on Saturday 8th April 2017.
Chester Music Society reserves the right to alter or cancel programmes without notice.