Young Musicians Competition 2018
WE VERY MUCH REGRET THAT FOR REASONS BEYOND OUR CONTROL THIS YEAR'S COMPETITON HAS BEEN CANCELLED
The Music Society's annual Young Musician Competition held at the King's School, Wrexham Road, Chester CH4 7QQ on Sunday 25 November 2018 from 09.30
The competition will be open to instrumentalists in three classes:
Class 1: entrants up to and including age 12 who have achieved minimum grade 3
Class 2: age 13 to 15, minimum grade 6
Class 3: age 16 to 18; minimum grade 8
Entrants may submit any instrument of their choice (other than the organ).
The winners of each of the three classes will be further judged for the title of Chester Young Musician of the Year 2018.

Entrants must be resident within a 40 mile radius of Chester and have achieved the age stated on the date of the competition.
Entrants must be recommended by their music teacher, whose details must appear on the application form
Each entrant will be required to perform a varied programme of their own choice, of which one piece must be performed from memory. Duration: Class 3: 15 minutes; Classes 1 and 2 approximately 10 minutes.
Awards will be made as follows:
1. For the winner of each class: A cash prize of £100
2. For the overall winner and Young Musician of the Year: An additional cash prize of £250 and a Trophy (to be retained for twelve months)
3. For the winner and the runner up of each class:
A public performance organised by Chester Music Society at St Mary's Creative Space, Chester on 16 January 2019.
(Participation in this concert is obligatory.)
Winners and runners up in Class 3, and the overall Young Musician, will be invited to apply for one of the two Music Society Bursaries, each worth £500. These will be awarded at the Society's discretion to applicants who show outstanding promise and undertake to use them to advance the applicant's college musical education.
Closing Date for entries: Friday 9 November 2018.
More information from 01244 678589, This email address is being protected from spambots. You need JavaScript enabled to view it.. For a prospectus and application in PDF format click here
Lila Hallett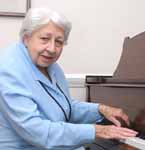 It is with great sadness that we have to announce the sudden death of Lila Hallett on 2 January at the age of 86.
Lila devoted her life to participating in and involving others in the field of music, particularly young people. From the age of 17 she was a piano teacher and accompanist, as well as a music teacher in four Chester schools for 20 years, and a lifelong accompanist for concerts, examinations, and ballet classes.
For nearly 40 years she was a committee member of Chester Competitive Music Competition, for 13 years accompanied Brymbo Male choir, for 25 years she was a committee member and adjudicator for the Lakewood scholarship which sent Chester Based Musicians to Lakewood to represent the best of Chester.
Over the years, she has organised numerous musical events for fund raising activities for charities such as The British Heart Foundation, Friends of the Phil and the Breast Care Unit at the Countess of Chester hospital.
Lila was instrumental in proposing the Young Musician of Chester competition and, as accompanist and supporter, in enabling the Chester Music Society Youth Choir to become established in 1988. She continued as a committee member of both Showcase and the Celebrity Concerts up until her death.
She was delighted to be awarded the Outstanding Contribution to the Arts award at the first Cheshire West Voluntary Arts awards in 2015. In 2016 she was awarded the Lady Hilary Groves Award by Making Music in 2016 for her outstanding contribution to Music in the community.
Lila was warmly open and welcoming to all members of the community regardless of their disabilities or background. She had an intense musical ability, with high standards, an unbridled enthusiasm and a passion for including others in music. Her knowledge and life long experience of the musical world enabled her to contribute in an extensive way to the musical culture in the area. She provided a wide range of people with an opportunity to experience and enjoy music whether participating as a player or listener.
Her involvement as a music teacher and various committee activities enabled her to have a finger on the pulse for up and coming musicians. She has always 'gone the extra mile' in devoting far more time and energy than expected to enable people to achieve their absolute best.
David Woods