Aurora Ensemble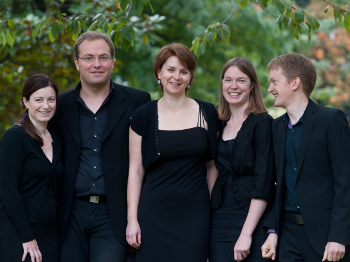 Wed. 14th December 2016
Our Christmas Concert this season is by the renown Aurora Ensemble visiting Chester Celebrity Concerts for the first time. The instrumental wind quintet will be playing works by Rossini, Vivaldi, Walton and others.
Prizewinners at the European chamber music competition Musique d'Ensemble held at the Paris Conservatoire in 2001, the Aurora Ensemble has performed in many major venues and festivals including the Purcell Room and Wigmore Hall, Manchester's Bridgewater Hall, Cardiff's St. David's Hall and the Warwick, Thaxted, Ryedale and Petworth Festivals.
They have broadcast on ORS Television (Austria) and BBC Radio 3 for the Young Artists' Forum and were selected as one of the featured ensembles in Making Music's Concert Promoters' Network brochure for the 2005 - 2006 season.
The Aurora Ensemble players are:
Maxine Willis - flute
Gwenllian Davies - oboe
Andrew Mason - clarinet
Richard Bayliss - horn
Stuart Russell - bassoon
Programme:
Rossini (arr Sheen) - Overture Italian Girl in Algiers
Reicha - Wind Quintet in E flat, Op 88 No 2
Beach - Pastorale
Medaglia - Suite Popular Brasileira
Vivaldi - Trio in G minor RV103
Klughardt - Wind Quintet in C major, Op 79
Walton (arr Mason) - Façade suite (excerpts)
Venue: St Mary's Creative Space, 19:30, Wednesday 14th December 2016.
Tickets: £18 (Season ticket holders: Free).
Tickets may be purchased at the door, or in advance by telephoning Ticketsource: 0333 666 3366 (£1.50 fee per booking), in person at the Chester Town Hall Visitor Information Centre, or online at: www.ticketsource.co.uk/chestermusicsociety/aurora.
The ticket price includes buffet and refreshments.
This concert is supported by a friend of the Celebrity Concerts.
Chester Music Society reserves the right to alter or cancel programmes without notice.