Queen's Young Voices and Chester Youth Symphony Orchestra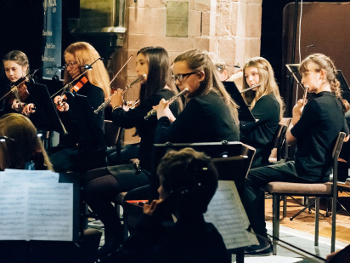 Wed. 19th October 2016
For the first Club Concert of the season a double bill of young chester musicians. The Queen's School Young Voices and the Chester Youth Symphony Orchestra present an entertaining evening of music.
Queens Young Voices
Margaret Corlett - conductor
The Queen's Young Voices is a choir of up to 40 young girls from the the Queen's School Chester led by Margaret Corlett. In 2015 they reached the semi-final of the BBC Songs of Praise Junior Choir of the Year competition which was televised by the BBC in April 2015.
Chester Youth Symphony Orchestra
Jan Modelski - conductor
This new orchestra is the brainchild of our Conductor & Musical Director, John Modelski and is currently going through the process of obtaining Quality Assurance Accreditation from the local music hub partnership of the Cheshire West & Chester Music Service and the Wirral Schools Music Service (known as Musical Routes).
The Orchestra has been set up to give Chester's young players of every orchestral instrument the chance to play in a full symphony orchestra. The aim is to make the experience fun and friendly whilst also achieving a high level of professionalism, therefore developing musical skills and experience. The repertoire will always be varied and challenging.
Venue: St Mary's Creative Space, 19:30, Wednesday 19th October 2016.
Tickets: £5 in advance from This email address is being protected from spambots. You need JavaScript enabled to view it.. (Club Season ticket holders Free).
Chester Music Society reserves the right to alter or cancel programmes without notice.