JUBILEE STRING QUARTET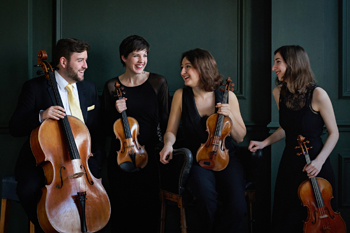 Wednesday 12 February 2020, 7.30pm
St Mary's Creative Space
A Celebrity Concert. Tickets £16
 
Tereza Privratska violin
Julia Loucks violin
Lorena Cantó Woltèche viola
Toby White cello
Mozart           String Quartet No 22 in B-flat major, K. 589,
Bartok           String Quartet No 4
Beethoven     String Quartet No. 15 in A minor, Op. 132

 First prize winners of the Val Tidone International Chamber Music Competition 2010 and the St Martin's Chamber Music Competition 2013, Second prize winners of the Karol Szymanowski International String Quartet Competition 2014, and third prize winners of the Trondheim International Chamber Music Competition 2013, the Jubilee Quartet was formed in 2006 at the Royal Academy of Music, London.
The group studied with Rainer Schmidt at the Musikhochschule Basel from October 2014 to March 2016, with members of the Belcea String Quartet in 2016-17, with John Myerscough through the Chamber Studio at King's Place in 2018. They have been named Associate String Quartet at the Royal Birmingham Conservatoire while studying with Oliver Wille for 2018-19.


The quartet has performed widely throughout the UK in venues such as the Wigmore Hall, Conway Hall and the Purcell Room, and their continental tours have included a performance in the presence of the former Czech president Vaclav Havel. Notable recent performances include an appearance at the international chamber music series in Basel, Switzerland in 2017, performing at the 2018 Luberon Festival through ProQuartet, and a performance in Léon for the International Festival de Música de Cámara in December 2018.


The Jubilee Quartet would like to thank the Stradivari Trust, the Mears/Speers and Eyers families and Mike Down for their generous support.