Jack Liebeck and Katya Apekishiva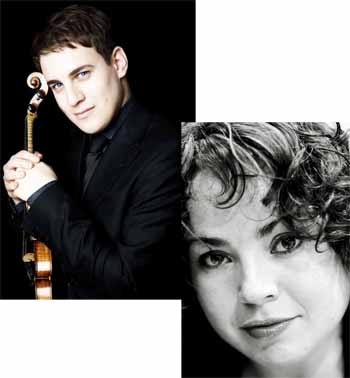 Wednesday 14 February 2018, 7.30pm
Celebrity Concert
Schubert: Grand Duo Sonata in A
Debussy: Sonata
Debussy: Claire de Lune
Fauré: Sonata No1
Venue: St Mary's Creative Space, St Mary's Hill, Chester CH1 2DW
Tickets: £15 (Season ticket holders: Free).
Tickets may be purchased at the door, or in advance by telephoning Ticketsource: 0333 666 3366 (£1.50 fee per booking), in person at the Chester Town Hall Visitor Information Centre, or online at: www.ticketsource.co.uk/chestermusicsociety
"His playing is virtually flawless in its technical ease, scintillating articulateness and purity of tone." Gramophone
Possessing flawless technical mastery and a "beguiling silvery tone" (BBC Music Magazine), violinist Jack Liebeck's playing embraces the worlds of elegant chamber-chic Mozart through to the impassioned mastery required to frame Brett Dean The Lost Art of Letter Writing. Jack's fascination with all things scientific has included performing the world premiere of Dario Marianelli Voyager Violin Concerto and collaborations with Professor Brian Cox; he programmes his own annual festival Oxford May Music around the themes of music, science and the arts. A professional photographer, he loves film and can be heard in the soundtracks of The Theory of Everything, Jane Eyre and Anna Karenina. Jack is a dedicated educator holding a professorship at the Royal Academy of Music – tips include "sing your way to string perfection" (The Strad). Jack is also a member of Trio Dali "virtuosic brio…this is a group to watch" (The Australian).
Katya Apekisheva is one of Europe's most renowned pianists, in demand internationally as both a soloist and as a chamber musician. Since becoming a prize-winner in the Leeds International and Scottish Piano Competitions and collecting awards such as the London Philharmonic 'Soloist of the Year' and the Terence Judd Award she has been marked out as a pianist of exceptional gifts, performing with many of the world's leading orchestras, including the London Philharmonic, The Philharmonia, the Halle Orchestra, the Moscow Philharmonic, the Jerusalem Symphony, the English Chamber Orchestra and the Royal Philharmonic Orchestra, working with conductors such as Sir Simon Rattle, David Shallon, Jan Latham-Koenig and Alexander Lazarev.
This concert is supported by a Friend of the Celebrity Concerts.
Chester Music Society reserves the right to alter or cancel programmes without notice.

click here