Matthew Scott and Daniel King-Smith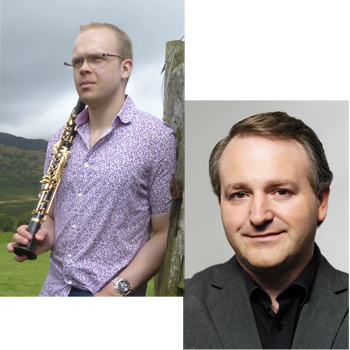 Wednesday 10 January 2018, 7.30pm
Celebrity Concert
Poulenc Sonata for clarinet and piano
Horovitz Sonatina for clarinet and piano
Weinberg Sonata for clarinet and piano, Op 28
Prokofiev Sonata in D major, Op 94
Debussy Première Rhapsody
Chabod Variations on the Nutcracker Ballet
Venue: St Mary's Creative Space, St Mary's Hill, Chester CH1 2DW
Tickets: £15 (Season ticket holders: Free).
Tickets may be purchased at the door, or in advance by telephoning Ticketsource: 0333 666 3366 (£1.50 fee per booking), in person at the Chester Town Hall Visitor Information Centre, or online at: www.ticketsource.co.uk/chestermusicsociety
Matthew Scott graduated with a 1st Class honours degree from the Royal Academy of Music in 2013, followed by an MA with Distinction and DipRAM in 2015. He was generously supported by The Countess of Munster Musical Trust and The Greenbank Scholarship.
Matthew works regularly with duo partners Daniel King Smith and Christine Zerafa and is delighted to be an Artist for both Making Music's Philip and Dorothy Green Award for Young Concert Artists and The Countess of Munster Musical Trust Recital Scheme in the 2014-16 Season. He was Wind Finalist in the Royal Overseas League 63rd Annual Music Competition, 34th and 35th Bromsgrove International Young Musicians Competition's and won Wind Category 1st Prize in the 2014 Tunbridge Wells International Young Concert Artists Competition. In 2015 he was invited onto the London Sinfonietta Academy and Britten-Pears Young Artists Platform. Matthew has performed at major London venues including Eaton Square, Kings Place, LSO St. Lukes, St. George's Hannover Square, St. John's Smith Square, St. Martin-in-the-Fields, Queen Elizabeth Hall and Wigmore Hall. He appears on the RAM Soloists Ensemble's critically acclaimed CD of Bruckner's Symphony No.2 under Trevor Pinnock (Linn Records) and has recently performed concertos with orchestras including the London Festival Sinfonia, Southern Pro Musica and Petersfield Orchestra. Matthew also works as a freelance orchestral musician.
Matthew is founding member of Ensemble Mirage, a dynamic flexi-ensemble based in London, UK. Originally called Trio Mirage (Cl/Vln/Pn), the ensemble won the Harold Craxton Prize and a Chamber Music Fellowship at the Royal Academy of Music for 2015-16, before evolving into the current quintet; enabling the exploration and programming of the whole range of Clarinet-String-Piano chamber music. Ensemble mirage have since performed at Music Festivals and venues around the UK including the 2015 Two Moors Festival, The Lantern Colston Hall and the 2016 Norfolk and Norwich Festival. Other collaborations include the Delmege and Fitzroy Quartets, contemporary ensemble Khymerikal and contemporary collective NonClassical. Matthew made his St. Martin-in-the-Fields solo recital debut in January 2015, followed by a second concert in October 2015, and regularly performs solo and chamber recitals for music societies and festivals throughout the UK. Ensemble Mirage are delighted to be 2016/17 St. John's Smith Square Young Artists, and most recently Matthew has been selected as a 2016/17 Park Lane Group Young Artist with duo partner Christine Zerafa
Daniel King Smith studied at the Royal Academy of Music under Piers Lane and Michael Dusseck, where he received the Harold Craxton Chamber Music Prize and the Max Pirani Piano Trio Prize. He was a finalist in the piano section of BBC Young Musicians competition. Since then he has performed in many venues, both as soloist and accompanist.
Chester Music Society reserves the right to alter or cancel programmes without notice.