Choir at Storyhouse
Sunday 15 April was a 'first' for the CMS Choir when they appeared on the main theatre stage at Storyhouse in Chester. Ever since Chester's new theatre was opened in May last year we looked on enviously and wondered whether it would be possible to perform in this exciting new space.
After many weeks of discussion we finally joined forces with Chester Bach Singers and the City of Chester Male Voice Choir for a joint performance under the umbrella title of 'Chester Sings'. As a technical learning process it proved an interesting and valuable experience. Getting to grips with a large professional theatre presented the participants with a challenge which all met with flying colours.
In the presence of a her Grace the Duchess of Westminster a highly supportive audience was entertained by each choir's individual musical style, beginning with the Bach Singers who performed works by Rachmaninov Elgar and Finzi and then let their collective hair down with a lighter mood, including Blue Moon, I Got Rhythm and Somewhere Over the Rainbow.
The Male Voice Choir were in fine fettle and showed their talents in medleys of American songs from the First World War, and exciting harmonies from South Africa, in which their music director Rodney Jones featured as a soloist.
In keeping with their normal performance space of Chester cathedral the Music society choir has a bias towards the spiritual, and on this occasion followed their instincts by performing Parry's Blest Pair of Sirens and a Te Deum for the Empress Marie Therese written by Joseph Haydn.
To round off the evening, and with the house lights up so that at last the performers could see their audience, Graham Jordan Ellis led all three choirs and the audience in a rousing performance of William Blake's Jerusalem to conclude a fascinating experience for all concerned.
Lila Hallett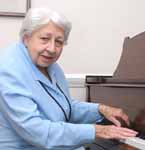 It is with great sadness that we have to announce the sudden death of Lila Hallett on 2 January at the age of 86.
Lila devoted her life to participating in and involving others in the field of music, particularly young people. From the age of 17 she was a piano teacher and accompanist, as well as a music teacher in four Chester schools for 20 years, and a lifelong accompanist for concerts, examinations, and ballet classes.
For nearly 40 years she was a committee member of Chester Competitive Music Competition, for 13 years accompanied Brymbo Male choir, for 25 years she was a committee member and adjudicator for the Lakewood scholarship which sent Chester Based Musicians to Lakewood to represent the best of Chester.
Over the years, she has organised numerous musical events for fund raising activities for charities such as The British Heart Foundation, Friends of the Phil and the Breast Care Unit at the Countess of Chester hospital.
Lila was instrumental in proposing the Young Musician of Chester competition and, as accompanist and supporter, in enabling the Chester Music Society Youth Choir to become established in 1988. She continued as a committee member of both Showcase and the Celebrity Concerts up until her death.
She was delighted to be awarded the Outstanding Contribution to the Arts award at the first Cheshire West Voluntary Arts awards in 2015. In 2016 she was awarded the Lady Hilary Groves Award by Making Music in 2016 for her outstanding contribution to Music in the community.
Lila was warmly open and welcoming to all members of the community regardless of their disabilities or background. She had an intense musical ability, with high standards, an unbridled enthusiasm and a passion for including others in music. Her knowledge and life long experience of the musical world enabled her to contribute in an extensive way to the musical culture in the area. She provided a wide range of people with an opportunity to experience and enjoy music whether participating as a player or listener.
Her involvement as a music teacher and various committee activities enabled her to have a finger on the pulse for up and coming musicians. She has always 'gone the extra mile' in devoting far more time and energy than expected to enable people to achieve their absolute best.
David Woods