Choir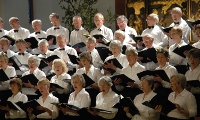 The Society Choir is a community choir of 170 members giving performances of major choral classics in Chester Cathedral. New members in all voice parts are always welcome to attend rehearsals prior to audition.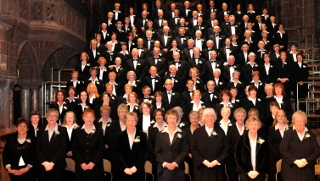 The Choir draws singers from Chester and the surrounding district and gives five concerts each year in the beautiful location of Chester Cathedral.
The three principal concerts in November and in the Spring are performances of major choral classics, oratorio and similar works with professional soloists and orchestra.
The choir engages professional soloists and orchestral players to perform the works in their entirety to a very high standard.
In addition to these concerts, the choir gives two performances of Christmas music in Chester Cathedral in December with well known presenters. Recent presenters have included Ian McMillan and Rev. Richard Coles.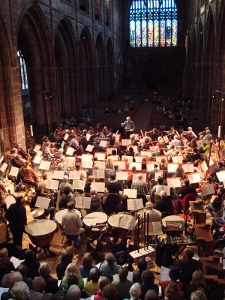 The choir also makes an overseas tour every two years. So far we have been to to Ghent, Venice, Prague, Dresden, Leipzig, Budapest, Florence, Krakow, Dubrovnik and Lisbon.
You will find full details of future choir concerts elsewhere in this web site.
The Choir meets for rehearsal at 7.30 pm every Thursday during the season at The Queen's School, City Walls Road, Chester, CH1 2NN. The choir membership fee covers the costs of rehearsals and concert participation but copies of music scores have to be hired or purchased separately.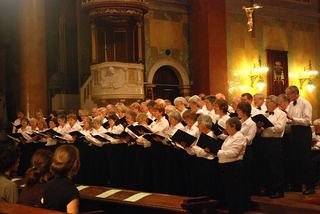 If you are interested in joining the choir click here
Full details of admission procedures can be obtained from the Membership Secretary, tel. 0151 336 5088 or by
email This email address is being protected from spambots. You need JavaScript enabled to view it.
An application form to join the choir can be downloaded here
Video of choir rehearsing Mahler's 2nd Symphony in Chester Cathedral on

Youtube Video.

click here