Showcase Concerts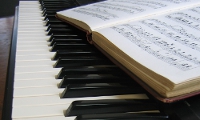 Showcase  is a long established section which features outstanding young musicians from the Chester area as well as more established local artists.
We aim to encourage young musicians and in many cases offer them their first opportunity to perform in public.
Performances are at St Mary's Creative Space, Chester on Wednesday evenings from October to May.

Admission is free for Showcase Members: otherwise £5, with concessions for students and children, payable at the door.
With light refreshments available during the interval the atmosphere is informal and new members are always welcome.

Please refer to the Showcase Concerts Season page for details of the individual Showcase Concerts.


 

click here